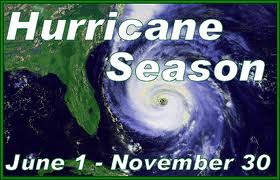 June 1st was the start of the hurricane season
June 1st was the start of the hurricane season and we would like to remind you of the following
1. To go bags– have a "to go bag/bags" packed for each member of the family so that you are prepared to evacuate your premises; you may only have a few minutes to get you and your family to safety.
2. Shelters– know where your hurricane shelter is in your community or the location of the nearest shelter.
3. Exit Route– Cayman roads are easily flooded so keep this in mind when deciding whether to ride out a storm at home.
4. Batteries– if we are hit by a major storm we will be out of electricity for few days or even weeks so having extra batteries for your flashlights as well as battery packs that you can use is important.
5. Food & Water– when it comes to food and water, this is something you never want to run out of so having a stock of nonperishable food items and an ample supply of water is crucial.
6. First Aid Kit– having a good first aid kit at home is very necessary, especially if you have kids; small cuts or scratches when exposed to standing water can become infected and pose a health risk if medical attention is not readily available.
7. Fuel– make sure all your vehicles are fueled up in case you have to leave your area.
8. Car charger– Make sure your phone is fully charged and you have a car charger or an extra phone battery.
9. Extra cash– always have a little money put away in a safe place for a Hurricane emergency as ATM machines may not be functioning or accessible.  If you need to leave your home or even the island on very short notice having some extra cash put aside just for this purpose will be convenient and will give you peace of mind.
10. Important medication & Documents– All Meds should be refilled prior to a storm alert and if you need to evacuate the islands make sure to have refills.  Passports, Birth and Marriage certificate and any important documents should be in a water proof container.Be safe this hurricane season, get prepared and stay up to date on the weather and check the websites below to find out ways you can be ready.
Be safe this hurricane season, get prepared and stay up to date on the weather and check the websites below to find out ways you can be ready. https://caymanresident.com/about/weather-in-cayman/hurricane-preparedness/hurricane-tips/