Cayman IT and Tech Recruitment | Stepping Stones Recruitment
Additionally, established companies in Cayman across many sectors are continuously looking to bolster their technology teams as the island becomes more and more modernized. Emerging technologies are very present in Cayman and several organizations look to hire top talent internationally to keep up to date.
Our clients have a constant need for specialists across several areas of technology. Our more common vacancies include Service Desk, Software Development, Quality Assurance, Cyber Security, Business/Data Analysis, IT Project Management, IT Sales and plenty more.
The introduction of Cayman Enterprise City has developed a community of innovative companies which has grown into an entrepreneurial tech hub, home to some of the fasting growing Tech/FinTech companies. These businesses range from start-ups to mid-sized enterprises as well as larger corporate organizations who are looking to develop a presence in Cayman.
Gaining global exposure in Cayman has been proven to open several doors for tech professionals. Many of our clients in Cayman have offices in various other jurisdictions and off-shore experience is now highly sought after.
SteppingStones is the leading Recruitment Partner in the Cayman Islands and due to our reputation that has been built over many years, we are fortunate to work with a huge variety of organizations on-island across several sectors, doing our best to give both local and international candidates the best chance of securing a new opportunity. We are massively motivated to continue seeing a clear increase in local Caymanian talent in the tech space, supporting Graduates looking for their first role to experienced local professionals looking to progress within the world of technology.
As the Tech industry in Cayman becomes more and more buoyant, we are always eager to chat with tech professionals regardless of specific expertise – to advise on the job market in Cayman and your suitability for any current and future opportunities you may be interested in. SteppingStones are known for their honest and transparent recruitment process, offering a professional and personable service.
For more information and a private/confidential chat, please contact Ben Bailey at ben@steppingstonesrecruitment.com or call on 345-326-2059.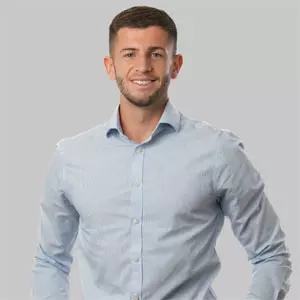 Senior Recruiter
Ben has extensive years' of global recruitment experience with the majority of those years focused on roles in the Cayman Islands. Ben is the go-to Tech Recruiter in Cayman and successfully launched SteppingStones Tech in 2022, providing a tailored service to clients and candidates on-island.
Don't believe us?
Believe them.
We would love to meet you