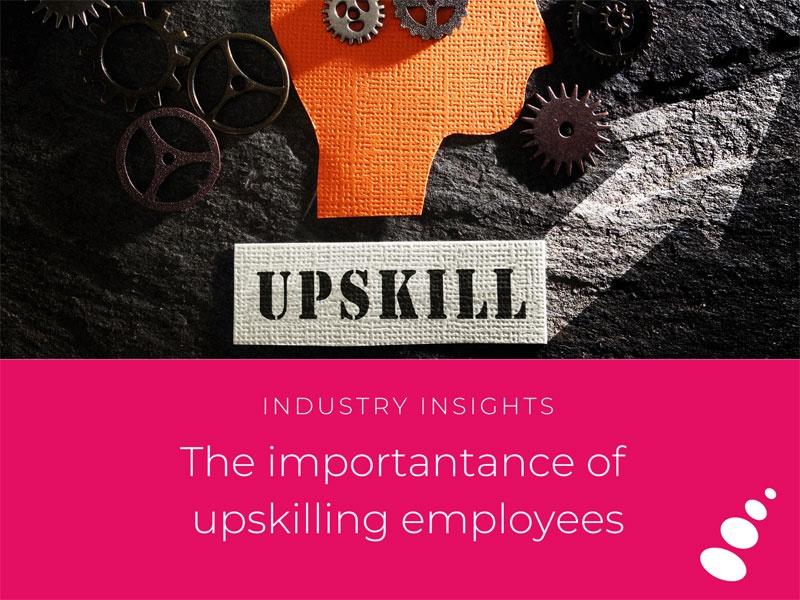 The Importance of Upskilling Employees
It is clear that today's workforce has dramatically shifted since the global pandemic hit in 2020, and one workforce trend that emerged is adaptability. From setting up remote operations to homeschooling children while working full-time, organizations and employees alike understand the importance of being flexible to meet demands in new ways.  With the world working differently now, another trend that is expected to be highly prominent is upskilling. Upskilling refers to improving existing employees' skills so that they can advance in their current role within the organization. It is also an opportunity for companies to identify and minimize any skill gaps they may be experiencing while simultaneously retaining their current team members. Upskilling is a priority for 62% of CEOs surveyed recently by LinkedIn. Training and developing your staff not only gives them new skills, but also keeps your company relevant. When performance improves, so does growth!
Creating and implementing a thorough upskilling program is an excellent way for companies to promote, empower, develop, and retain their current team. When an organization invests in their staff's learning and development, employees will feel valued and are less likely to leave the organization. But the benefits don't end there – upskilling increases morale, improves productivity, reduces recruitment costs, and helps the organization to ensure that their team is flexible and adaptable. When an organization is supportive of their employees' development, the overall reputation will improve and in turn, makes it easier to attract and retain new staff. What does an upskilling plan look like in practice?
Evaluate
The first step is to figure out where your gaps are. You could even consider surveying your staff to see which areas they feel are lacking and what sorts of improvements they recommend.
Research
Stay ahead of the game by figuring out where your industry is heading over the next 5-10 years and if your team is equipped to get there. If not, what will it take to surpass your competitors?
Set and communicate goals
Outline goals for your staff and let them know you are investing in them and the overall growth of the company. Career advancement should be an exciting prospect for them!
Execute
Figure out how you are going to get the plan in action. Does your learning and development team have the capacity to lead this? Does it make sense to bring in outside experts? Customize your upskilling!
Analyze results
Monitor your staff's progress and evaluate how things have gone. Be welcome to open and frank discussions with your employees to get an honest understanding of what worked and what didn't.
The current market is competitive and tight, especially in Cayman. This means it is absolutely imperative that employers identify and work to close any skill gaps they encounter. Rather investing time, energy and costs in recruiting and onboarding new employees, consider investing in the team you have!