Cayman IT Jobs | Tech Recruitment
IT and Tech Jobs in the Cayman Islands | Stepping Stones Recruitment
The Technology industry in the Cayman Islands is one of the most progressive sectors on-island, attracting several fast-growing tech firms from all over the world. Additionally, established companies in Cayman across many sectors are continuously looking to bolster their tech teams as the island becomes more and more modernized. Emerging technologies are very present in Cayman and several organizations look to hire top talent internationally to keep up to date.
Our clients have a constant need for specialists across several areas of technology. Our most common vacancies include Service Desk, Software Development, Quality Assurance, Cyber Security, Business/Data Analysis, IT Project Management, IT Sales and plenty more.
SteppingStones is the leading Recruitment Partner in the Cayman Islands and due to our reputation that has been built over many years, we are fortunate to work with a huge variety of organizations on-island across several sectors, doing our best to give our candidates the best chance of securing a new opportunity.
The introduction of Cayman Enterprise City has developed a community of innovative companies which has grown into an entrepreneurial tech hub, home to some of the fasting growing Tech/FinTech companies. These businesses range from start-ups to mid-sized enterprises as well as larger corporate organizations who are looking to develop a presence in Cayman.
Due to the significant growth of several companies in Cayman, some of our key clients have a continuous need for tech professionals in particular areas. The most frequent opportunities we have available tend to be for IT Project Managers, Business Analysts and Software Engineers (.NET) however we continue to see an increase in several other areas as well. We are massively motivated to continue seeing a clear increase in local Caymanian talent in the tech space, supporting Graduates looking for their first role to experienced local professionals looking to progress within the world of technology.
If you do not see a role advertised that fits your skill set, please always reach out for a private/confidential chat to discuss what the job market looks like as well as your suitability for future roles.
For more information on anything or if you'd like an informal chat – please contact Ben Bailey on 326-2059 or ben@steppingstonesrecruitment.com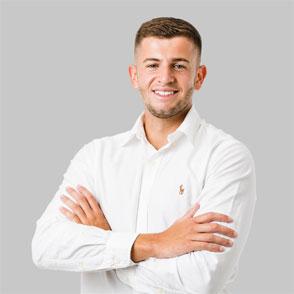 Recruiter
As the Cayman Islands become more and more technology-focused, Ben is very well-placed to assist clients and candidates with a wide variety of requirements. Ben has already started to establish himself as the go-to Tech Recruiter in the Cayman Islands and is already working with a very impressive portfolio of companies on-island.
Don't believe us?
Believe them.
We would love to meet you