It has equaled an extensive network of impressive professionals by its very definition executive search is "a specialized recruitment service which organisations pay to seek out and recruit highly qualified candidates for senior level and executive jobs". (Wikipedia)
We appreciate that finding and retaining talent at executive management and/or C-Suite level is both time-consuming and challenging, especially in a market that is increasingly competitive. We therefore offer a retained consultative service that allows us to partner with your business in order to gain the deepest understanding and appreciation of your needs, and then fulfil our mandate to provide you with a shortlist of possible candidates for the role(s).
We source our candidates from a variety of channels including job boards and our own website but predominantly at this level, we have seen our greatest success stories come from our own network of referrals.
Once we have sourced and presented a shortlist of suitable individuals to you, we remain actively involved in facilitating meetings and providing neutral confidential office space for these meetings if required. We would then be actively involved in the negotiation process at offer stage and would be on-hand for any onboarding administration as required.
Our reputation for consistency and excellence has been built up and maintained through our commitment to our core values:
Honesty, integrity and highly ethical
Trusted, highly competent and proud
Committed and dedicated
Establishing long term relationships, ensuring individual and reliable service
Professional, friendly and fun
Consistent, diligent and timely
The highest quality
Working in partnership with clients
We are constantly striving to ensure we offer an unparalleled service and, as such, welcome and invite feedback from our clients and candidates alike. We are always willing to incorporate suggestions that you think will improve on any of our current services. It is of paramount importance to us that we gain a comprehensive understanding of our client's organization, goals and culture to ensure we are able to meet their specific and evolving needs. Clients can be assured by the knowledge that all of the information we receive from them to better understand their requirements, remains strictly confidential at all times.
Our full service for Executive Recruitment is as outlined below however, we maintain a flexible approach and are able to supply any one element in isolation or combination of elements to ensure we can fulfill each client's individual recruitment and budgetary needs.
Advertising
Screening & Testing
Selection & Contract Negotiation
Immigration
Advertising
We are more than are aware of the importance of effective and strategic advertising to ensure we are reaching out to our target audience. We are mindful to keep up with the ever changing advertising trends with an up to the time, cutting edge advertising and marketing campaign. In addition to the standard methods of advertising, we also utilize overseas agents when recruiting our staff, together with direct referrals we gratefully receive from our past and existing staff members and clients.
We are also happy to assist our clients in developing attractive and competitive advertising. We offer information and advice on market rates and related benefits packages, ensuring you comply with the legal requirements for advertising in Cayman.
Screening & Testing
At SteppingStones we pride ourselves on our comprehensive screening process for each and every candidate. Our intensive assessment of candidates includes proficiency testing and aptitude tests (results are presented against global averages, giving clients a benchmark for comparison), interviews (by phone or in person) and extensive background and reference checks. We strongly believe that our rigorous approach to recruitment is what keeps us ahead of the competition and enables us to ensure our high levels of service across the board, guaranteeing our continued ability to provide only the highest caliber applicants in each specific field.
Selection & Contract Negotiation
Once we have been notified of your staffing requirements, setting out your needs and expectations for the role you are looking to fill, we then conduct a process of selection, creating a short-list of the most suitably qualified candidates which we then provide to you. Once you have had time to consider the short-list of candidates we will then schedule an interview (in person, by telephone or even via Skype) at your convenience. Finally, once a candidate has been selected, we guide and assist you through the contract negotiation process.
Immigration
SteppingStones offer both our clients and candidates full immigration advice and support. Having built up a strong relationship with the Cayman Island Government Immigration Department we are able to assist with any questions or concerns you may have. Please refer to our Corporate Immigration Services page for further information.
Why SteppingStones?
We consistently guarantee the highest caliber of candidate through our rigorous screening and assessment process
Our extensive candidate database can produce immediate staffing solutions when you need them most, eliminating time and costs associated with recruiting staff directly
We always try to think out of the box to provide innovative and effective recruitment solutions
Our commitment to providing a service that continually exceeds expectations
We care
Contact Rosie to learn more about our Executive Services.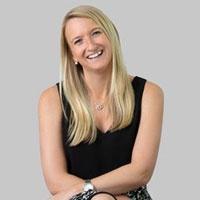 Rosie Scott
Recruitment Manager
Rosie takes a hands-on  approach to running a recruitment desk and specializes in Executive and C-Suite level roles. Rosie's passion for people is her driving force. Her awareness and knowledge of the local and international market, in addition to her commitment to clients and candidates alike, mean that she is always ready for the next challenge.
Don't believe us?
Believe them.
We would love to meet you