Flexible solutions for quality professionals.
SteppingStones Professional Contract Solutions has been helping professionally qualified and skilled candidates find contract placement opportunities within leading organizations for almost two decades.
Whether you are professionally qualified, part qualified, skilled, a recent graduate looking to get your foot in the door or a student looking to gain experience we've got a placement opportunity waiting for you.
Our dedicated team of recruiters will meet with you and take the time to understand your qualifications, needs and goals to ensure we identify and secure the right placement within the right organization.
As a contract employee you are a member of the SteppingStones team and we are committed to supporting and assisting all our professional contract employees before, during and after placement, providing a committed level of care throughout your time with us.
Are SteppingStones Contract Solutions Right for you?
Whether you are looking to get your foot in the door, gain knowledge and experience, have the flexibility to travel or get back into the workforce after an extended period of absence, Professional Contract Solutions might be right for you and here is why.
Gain permanent employment. Many permanent placements originate from contract opportunities and are a great way to get your foot in the door and audition for the job.
Gain new skills. Add value to future employers. Contract assignments allow you to gain new skills, exposure to new systems and different ways of working.
Work flexibility. Decide what type of role you want to take on and when. Do you want to work six months and then travel? Are you home from college and want to gain experience while making money during your breaks? If yes, then contract work could be a great option for you!
Gain experience and knowledge. Contract assignments allow you to learn new skills and gain valuable experience to add to your resume.
Build your resume. Stand out to hiring managers when you apply for roles. Contract assignments help you build your resume which could mean the difference between you and another candidate in the future.
Build your network. It's not what you know, it's who you know and who knows you. Whether it's for references or meeting like-minded people who may be able to help you further down the line, contract assignments can really lengthen your contact's book and get you in front of the right people.
Take companies for a test drive. Contract assignments are a great chance for you to gain insight into a company's culture, team, and network. If you want to see if a role or company is the right fit for you, try a contract to start! If the position is not what you expected, you have the comfort of knowing that there is an end date in sight, with new experiences to add to your resume.
Earning potential. Being able to earn a salary, even if it's just for a few months, is a huge advantage of contract assignments and there is also an opportunity to maximize earning potential based on hours worked!
Gain on-island experience. Considering moving to the Cayman Islands? Contract assignments provide a great opportunity to try out the island and see if it is the right fit for you.
Why SteppingStones?
Outstanding Reputation. Named as Investors In People (IIP) Top Platinum employer in the World in 2020 and 2022, candidates choose SteppingStones because of our outstanding reputation.
Client Network. Our extensive client network keeps us ahead of the job market, providing a broad range of job opportunities in a variety of industries readily available for our candidates.
Career Progression. Many of our professional contract employees go on to secure much sought-after permanent positions with leading global financial organisations.
Confidentiality. We will always keep your search confidential.
Recruiter Support. As a valued member of the SteppingStones team, contract employees are provided with a dedicated recruiter throughout their job search, contract assignments, and will work to help you secure permanent employment if that is your goal.
What you get as a SteppingStones Professional Contract Employee
At SteppingStones, all our professional contract employees are valuable members of the SteppingStones team and are provided with the following benefits:
Quarterly Socials
Frequent Check-Ins
Bi-Weekly 'New Perm Jobs' Newsletter
Complimentary Employee Assistance Program Support (EAP)
Access to SteppingStones Referral Programme
Above market hourly rates
Personal dedicated Recruiter and access to dedicated welfare officer.
BambooHR. Get access to your records and files on the spot. Stay up to date, log in to your own 'employee record', update your information, view your contract and our policies, request time off, monitor your sick leave/vacation entitlement and record your time.
Work with SteppingStones for 6 months or longer and receive additional benefits:

Vacation Entitlement – 7 days paid vacation
Sick Leave Entitlement – Paid sick leave (10 days per annum as per labor law)
Health Insurance Plan – SS contributes 75% of the SHIC plan towards chosen plan for Employee Only.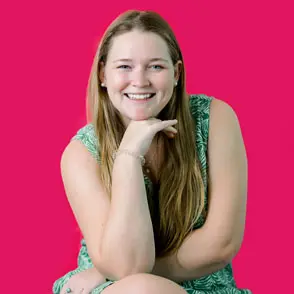 Recruiter
Luisa is a Caymanian who has spent the last ten years studying and working abroad in Canada and the UK before moving home to pursue a new career in recruiting. Luisa has a Bachelor of Arts in English Literature and Creative Writing and has recently completed a Master of Arts in Creative Writing and Publishing.
Don't believe us?
Believe them.
We would love to meet you