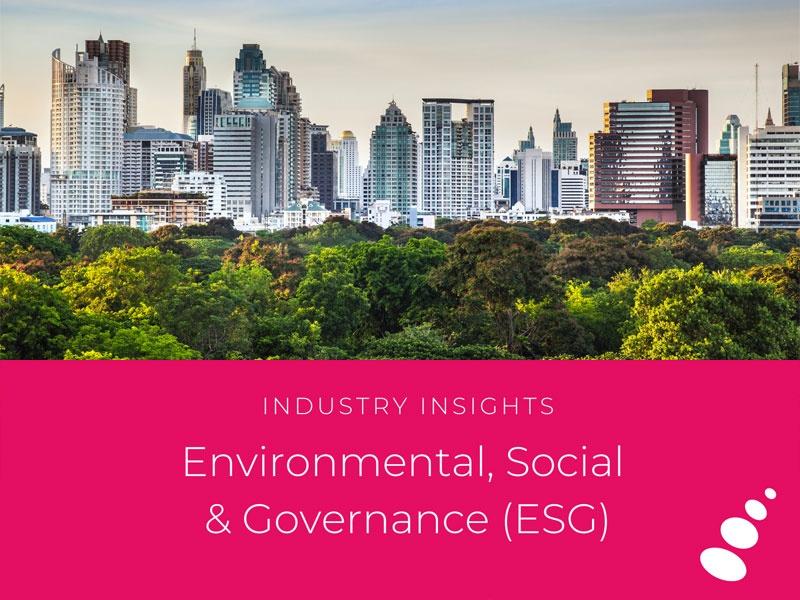 Environmental, Social and Governance (ESG)
In recent years, Environmental, Social and Governance (ESG) considerations have emerged as a crucial framework for evaluating the long-term sustainability and impact of businesses.  These principles advocate for responsible corporate behaviour that extends beyond profit maximization to encompass environmental stewardship, social justice, and ethical governance. As the global community faces mounting challenges like climate change, social inequality, and governance failures, the importance of ESG has never been more evident. This article explores the compelling reasons why ESG is vital for businesses, investors, and the world as a whole.
Breaking this down further.
'E' – Environment – Looks at the impact businesses have on the planet and how they can reduce their carbon footprint, conserve resources and adopt sustainable practices.  By doing so, businesses can not only contribute to a healthier planet but also gain a competitive advantage by positioning themselves as environmentally responsible entities.
'S' – Social – Focuses on factors such as employment, human rights, community and employee engagement and diversity and inclusion. By fostering positive social impact, businesses can build stronger relationships with customers, attract and retain top talent, and ultimately create a more equitable and fair society.
'G' – Governance – Emphasizing the importance of ethical leadership, transparency and accountability. It ensures that businesses are well managed and ethical as well as mitigating risks, preventing corruption and building trust amongst investors, employees and the wider public.
Sustainability and ESG went from a trend in 2021 and 2022 to mission critical in 2023.  Ernst & Young LLP recently commissioned a survey on the business relevance of sustainability and ESG initiatives. Responses from the C-suite across a number of Fortune 1000 companies confirm what many of us suspected: ESG is still very much in the sights of American executives and at the top of every agenda.
Integrating sustainability into the business model is now imperative for every organization. ESG and sustainability priorities can deliver the transparency investors seek, the workplace cultures and practices that employees demand, and the focus on environmental issues that shape consumer behavior. In the Ernst & Young LLP survey executives agree, but where 2021 and much of 2022 may have been more about ESG strategy and program building, momentum on real and diverse sustainability and ESG initiatives is now fully under way for many organizations.
Half of respondents highlighted company sustainability initiatives around the development and commercialization of sustainable products, or the development of more agile and sustainable supply chains for the future of their businesses: a critical success factor to mitigate ongoing and predicted disruptions. As many as 82% of surveyed leaders confirm their organizations have both carbon emissions reductions initiatives in place and goals to reach net zero by a given year. And more than two out of five executives also reported a focus on sustainability and ESG initiatives more related to social equity, a key concern for employees, customers and other stakeholders.
In 2022, SteppingStones Recruitment pledged our commitment to become a more sustainable organization by taking actionable steps towards reducing our environmental impact. We have worked hard to fulfil this commitment over the past twelve months and are extremely proud to have achieved our sustainability goals. In partnership with Alter Eco as our ESG Consultant, we started by conducting a sustainability audit and a full review of our carbon footprint. This helped to frame our new Environmental Policy which bans single-use plastics and promotes sustainable practices through recycling, composting, limiting printing and car-pooling. We have also replaced our water delivery with an on-tap water filter, installed energy efficient power strips, and have a local farmer deliver fresh local produce to our office and surrounding offices on a weekly basis. We took the Plastic Free Cayman 345 Pledge and partnered with the National Trust of the Cayman Islands to offset 6.4 tons of CO2e by purchasing mangrove land which would otherwise be lost to development. By doing this we are helping to protect our amazing biodiversity and adding to the climate resilience of our beautiful island home.  When the National Trust purchases land, it is protected in perpetuity for the people of the Cayman Islands and can never be resold. Our donation is one that will have real and lasting benefits both locally and globally and we look forward to continuing to play our part in preserving these vital habitats.
Cayman is our home; the Earth is our home, so let's work towards protecting it for our children, our children's children and generations beyond and all do our part in creating a more sustainable, inclusive and growing future for all.