SteppingStones Crowned World's Top Employer of the Year
SteppingStones has been crowned winner of Employer of the Year: Platinum (up to 49 people) in the World by Investor in People (IIP), cementing their claim as a global leader in how they support their people both personally and professionally, creating a positive work environment so they go home feeling happier, healthier and stronger.
SteppingStones accepted the award at the 2019 Investor in People Awards Ceremony at the Old Billingsgate, London, on November 19th in front of over 750 people, representing companies from around the world. This is the first time that an organisation outside the UK and west of the Atlantic has won this Award.
"Being crowned the world's Employer of the Year: Platinum in our category is a tremendous honor and achievement," said Milly Serpell, SteppingStones Founder and Managing Director. "This is an achievement of which we are extremely proud, and we felt so privileged to be able to represent the Cayman Islands as a top employer. Looking after your people is something that matters to all of us and that is why these awards are so special."
Eric Jenkinson IIP Practitioner and Management Consultant, worked closely with the SteppingStones team through their journey to Gold and then onto Platinum. "This is a massive achievement for SteppingStones and the Cayman Islands. For an internationally recognised brand, such as Investor in People, to identify SteppingStones as the Best Small Organisation Platinum Award Winner in the World is an unbelievable achievement. This proves that the Cayman Islands has organisations that are the best of the best in the world and can compete at international levels. They are a very dynamic and progressive team and I wish them every success in the future."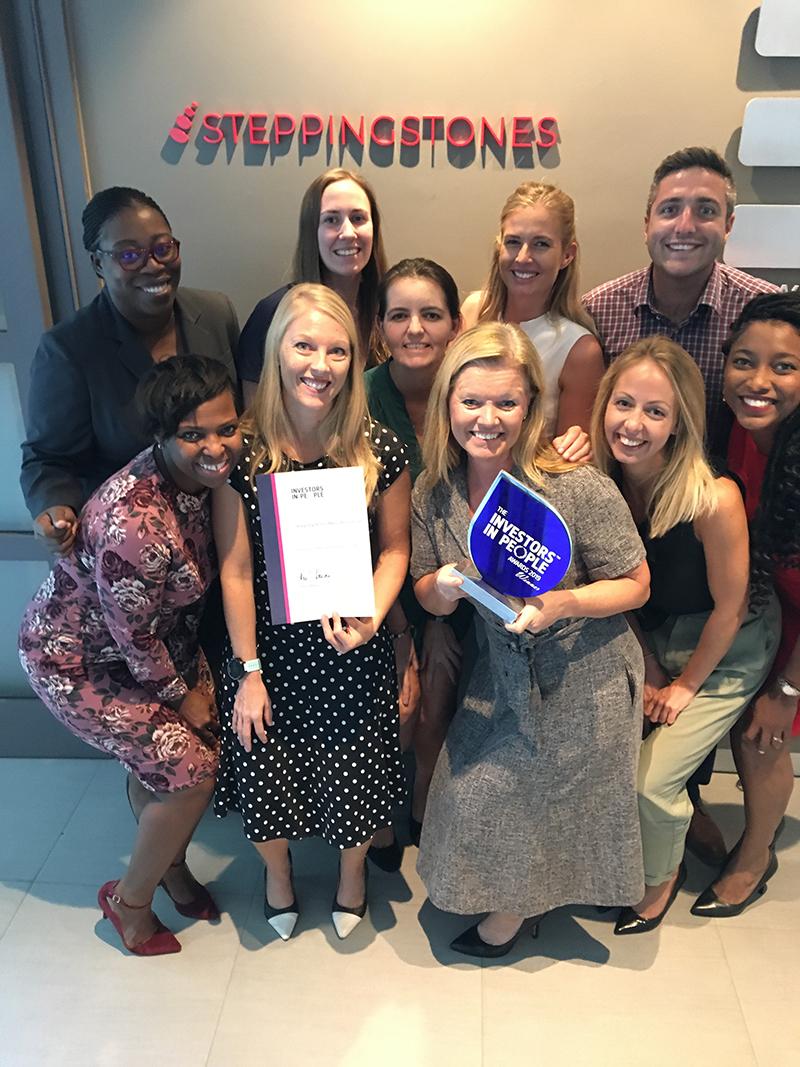 SteppingStones stood beside 6 organisations for the title award. "These are companies really getting it right. The ones we are learning from. The ones with new ideas. The ones that make work better. At SteppingStones we continuously strive for excellence, working to create a positive environment where careers can thrive. We were honored to be nominated alongside such incredible organisations," said Milly.
SteppingStones Investor in People journey started in 2015 after being awarded Investor in People Gold accreditation. In 2019 SteppingStones was the first company on the North American side of the Atlantic Ocean to receive platinum accreditation, the highest level of accreditation that Investors in People awards. In the IIP community of over 14,000 companies across 75 countries, only 1% of the IIP companies have reached this landmark level.
"When I walked into SteppingStones for the first time, I could tell immediately that this is an organisation with a magic ingredient. SteppingStones is a small organisation with a huge heart and an empowering and motivational spirit. They are passionate about their organisation and are even more passionate about their people. People have a huge sense of pride in working for SteppingStones. Their people love what they do and enjoy coming into work every single day. That is something to be proud of. "said Gill Brown, International Investor in People Practitioner who assessed SteppingStones for the IIP accreditation.
For more information about the Investor in People Awards visit www.investorsinpeople.com. For more on SteppingStones visit steppingstonesrecruitment.com.